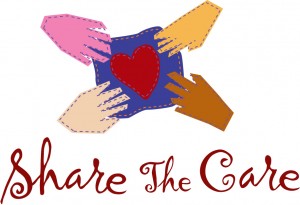 Who Cares For The Caregiver?
Caregivers are true heroes and heroines. They work long (unpaid) hours and routinely sacrifice their own dreams and careers to help care for a family member or friend. Yet saddest of all, many caregivers ignore their own health and well-being.
The Share The Care™ model was born out of NEED to support not only the person needing care, but also the caregiver and the entire family.
Twelve friends (who didn't know each other) came together to help a mutual friend-a divorced working mom with two teens and terminal cancer. These friends cared for her for nearly four years and in the process developed systems, forms to make sure the workload was shared and no one got stuck doing too much. They became known as "Susan's Funny Family."
After they lost their friend, they were asked to help others replicate what they had done. This resulted in the guidebook: Share The Care, How To Organize A Group To Care for Someone Who Is Seriously Ill, Simon & Schuster, Fireside Books, 1995, 2004. The Book rights are owned by ShareTheCaregiving, a program of The National Center for Civic Innovation (501c3)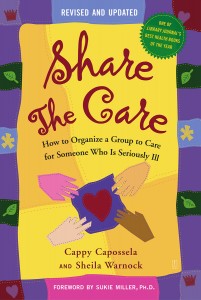 Share The Care™ has guided people from all around the world to form their own group to help with every imaginable circumstance: illness (chronic to terminal), disability, rehabilitation, support for older folks living on their own without family nearby. It has also proved a lifesaver for a young couple with quadruplets, and a comfort to a widower with small children. The only limitation to its application is one's imagination. It teaches real TEAM WORK.
Participants in groups report it to be a personally rewarding experience. Share The Care™ is especially beneficial to people who have never been a caregiver as they can learn by working in tandem with others who have caregiving experience.
If you are a caregiver or someone who needs care-and you are asked "what can I do to help?" you can start by sending that person to our website to learn more about how to get started. Our organization provides telephone and email support.
We also offer a wide range of presentations, workshops and trainings for health professionals, corporations, and faith communities. Contact us for more information.
Web site: Web site: http://www.sharethecare.org/
Share The Care™ is the caregiving model of the ShareTheCaregiving – a program of The National Center for Civic Innovation (501c3)
Articles and information about Share The Care™ and why it is an important caregiving option